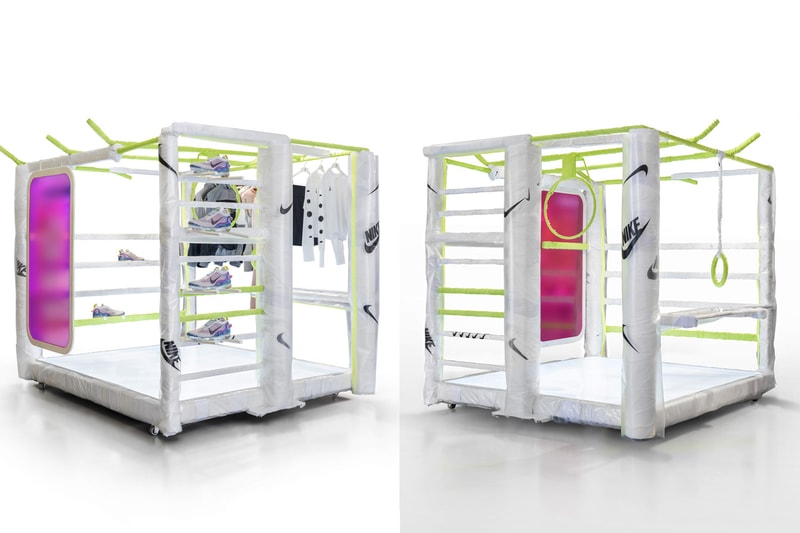 The Nike VaporMax series has turned heads since the unique design was introduced back in 2017. The combination of a 360 degree air unit and woven one-piece upper utilizing Flyknit technology was futuristic and functional — it hit all of the right notes. Crosby Studios founder Harry Nuriev took the inspiration found in the VaporMax a step further, creating the new Circular Design in Interior installation to celebrate the launch of the Nike VaporMax 2020.
The first time that Nuriev and Nike collaborated resulted in his Neon Green Air Max Sofa created in honor of Nike's annual Air Max Day celebration. Nike then revisited that collaboration earlier this year through an augmented reality filter for Instagram.
Circular Design in Interior is built on the concept of up-cycling, or finding new uses for old product, and champions Nike's "Move To Zero" initiative. The pop-up installation repurposes elements found on different sports fields and courts to complete the mobile shopping experience. "The material which covers the carcass was created from used objects — that's a metaphor for Nike's Flyknit technology, where they use recycled textile and recycled plastic bottles in the production of woven parts of the sneakers." Nuriev revealed in a recent Crosby Studios press release. The frame also utilizes a biodegradable transparent material that doesn't hide the original materials, much like the VaporMax's air unit.
Read more about the Crosby Studios founder's creative process in our "Harry Nuriev Wants to Design Your Entire Universe" interview. In more design updates, Zaha Hadid Architects are set to construct a new metro station in Moscow featuring new innovations in lighting and passenger information.
Click here to view full gallery at HYPEBEAST